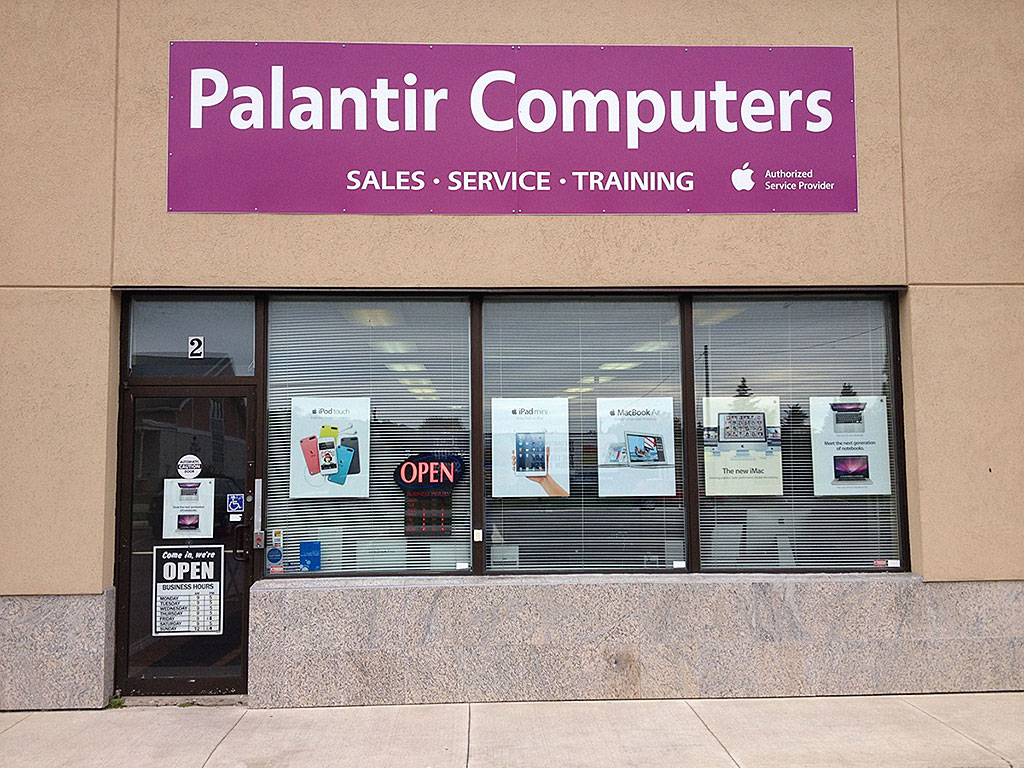 A division of Palantir Information Systems of Canada Limited, incorporated October 1994. Palantir Computers is a service-oriented computer shop located in Owen Sound, Ontario. We are an Apple Authorized Reseller and Service Provider.

We specialize in Macintosh computers and carry the entire line of Apple products, from the iPod and AppleTV to iPad to all Macintosh computers, and can provide Build to Order as well as stock models.
We also sell and service computers running Microsoft Windows operating systems.
We are authorized agents for Lenovo, Dell, HP, Acer and others. Our experience in both platforms gives us a tremendous advantage in assisting businesses who are interested in integrating Macintosh and Windows computers in their offices.
Palantir Computers is the retail division of Palantir Information Systems of Canada Limited. Palantir Information Systems specializes in the development of groupware communications systems for small and medium sized businesses, government and educational institutions.
We concentrate on deploying the FirstClass Groupware Communications system, along with NotifyLink smartphone synchronization servers, FC Memex Document Management System, and most recently, web-based Content Management Systems based on FirstMagic. All of these products use FirstClass as their server side host. For more information, please see http://palantir.ca
Specialties
Service and Repair - Our experienced technicians repair all makes and models of computers. We pay extremely careful attention to your data while working on your computer. We go to great lengths to protect your data, and are able to perform a variety of data restoration attempts upon request. Our services include all forms of tune up, antivirus and antispyware service, plus spill damage repair, lcd replacement, drive replacement, and logic board repairs on Macintosh and Windows PCs.
Macintosh - We are an Apple Authorized Reseller, with access to the entire suite of products made by Apple, including Macs, iPods, iPads, Apple TV and iPhone through our affiliation with Bell Mobility. We are the only Apple Authorized Service Provider in Grey and Bruce Counties, and therefore the only authorized provider of warranty service for Macintosh computers in the area.
Windows - We sell name-brand PCs, Laptops, Netbooks and peripherals, from all of the major manufacturers. We also sell refurbished computers. We have extensive experience in repair and maintenance of systems based on the Windows operating system in all varieties.
Data Recovery - We have many years of experience recovering data from hard drives that cannot be read normally. We are also affiliated with a number of Data Recovery services that can repair broken drives in order to access critical data.
Cross-platform solutions - We have been selling and supporting networks in mixed Mac and PC environments for many years.
FirstClass - We provide sales, support, consultation and development for the FirstClass groupware system. We assist onsite, and we host systems in our own server room. In addition, we represent developers of several products that extend the capabilities of FirstClass as a document management system, as a web-based Content Management System, and in synchronization of FirstClass based Mail, Calendar and Contacts with smartphones.
NotifyLink - We install, configure and support the NotifyLink synchronization system to work with FirstClass, Groupwise and other collaboration systems.
FC Memex - We install, configure and support FC Memex, which adds sophisticated Document Management capabilities to FirstClass, and can also be used to enable secure and protected network access to users through the FirstClass client, without need of a VPN.
FirstMagic - We install, configure and support FirstMagic, an add-on to FirstClass that permits sophisticated, CSS based web site development, resulting in a Content Management System that is easy to construct, easy to deploy and extremely easy for the end user to maintain.
Authorizations
Apple - Macintosh computers, iPod, Apple TV, Authorized Service Centre
Acer - Consumer and Professional Computers and Peripherals
Bell Canada - Telephone, Telephone Systems, Internet connections
Bell Mobility - Smartphones, TurboStick internet products, data service plans.
BenQ - Displays, Scanners, LCD Projectors
Dell - Desktops, Laptops, Displays and Peripherals
Epson - printers, digital cameras, scanners
Hewlett Packard - Computers, printers, scanners and peripherals
JVC - Televisions, Cameras, Video
LaCie - Displays, Storage Devices
Lenovo - Desktops, Laptops and Displays
Microsoft - Windows, application software, educational software
NotifyLink - PDA syncing server and software from Notify Corporation
OpenText - FirstClass groupware systems and Unified Messaging
Pelican - Indestructible cases, lanterns
Seagate - Hard Drives, Storage Solutions and Data Recovery
Symantec - utility software, educational software
Xerox - Copiers, Printers, Toner, Paper